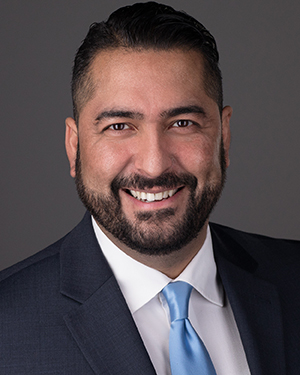 Salvador Soto, Owner & Managing Broker
2007 Innovation Award Winner –FW Business Magazine
2007 Entrepreneur of the Year (Runner-Up) - Hispanic Business Magazine
Salvador A. Soto is the owner and Managing Broker of DeSoto Real Estate based in Fort Wayne, Indiana. Sal has over 20+ years of business and real estate experience. Sal is the past CEO of DeSoto Translation & Marketing, Inc. a full-service translation and interpretation agency located in Fort Wayne, Indiana, and author of How to Start Your Own Language Translation & Interpreter Business. Mr. Soto is also the past founder and director of the Avant-Garde Fine Art Gallery.
Founder- Fiesta Fort Wayne- Hispanic Heritage Festival & Latinos Count Youth Conference
Committee Member- Fort Wayne Community Schools Scholarship
Founder- Indiana Hispanic Leaders Conference
Founder- DIA Fort Wayne- Fort Wayne Day of the Dead (Dia de los Muertos) Festival
Soto serves in local, state, and national leadership positions. As the former Director of Diversity Initiatives for the United Way of Allen County he is frequently asked to speak at conferences, moderate panel discussions at national and state conferences and facilitate workshops on several issues.
Sal received his degree from the University of Saint Francis in Fort Wayne, Indiana. Sal was enlisted as a member of the United States Navy and was stationed in San Diego, California, Corpus Christi, Texas, and the United Arab Emirates. Soto is the past-President of the Fort Wayne Hispanic Chamber of Commerce (2002-2004) and a past board member and co-founder of the Fort Wayne Hispanic Leadership Coalition (HLC). Currently serving as Board Chairman for Latinos Count.
Soto serves on numerous community boards:
Museum of Fine Arts- Board Member, Indiana Commission on Hispanic/Latino Affairs- 2000-2005 Vice-Chairman 2003-2005, FW Hispanic Chamber of Commerce- Past President 2002-2004, Leadership FW- Advisory Board Trustee, Fort Wayne Latino Scholarship Fund- Co-Founder/Board Member, Parkview Hospital Foundation-Board Member, United States Hispanic Leadership Conference-Planning Committee, Kellogg Foundation- Third Millennium Philanthropy & Leadership Initiative Advisory Board, Canterbury School-advisory Board, Indiana Hispanic Leadership Summit (In partnership with the Indiana Humanities Council)- Founder and 2005 Co-Chairman of the Indiana Commission on Hispanic/Latino Affairs Statewide Conference.
Awards:
2008 Indiana Companies to Watch, 2007 Entrepreneur of the Year (EOY) Semi-Finalist "Rising Star Category" Hispanic Business Magazine. The United States Junior Chamber 2006 & 2007 Semi-finalist for the Ten Outstanding Young Americans (TOYA) Award, 2007 Fort Wayne Business Weekly Innovation Award Recipient, 2007 Innovator of the Year Award Finalist- Fort Wayne Business Weekly, The Indiana Governor's Award for Tomorrows Leaders 2004, Fort Wayne Business Journal 40 under 40- 2004 (recognizes entrepreneurs and leaders under the age of 40) and recipient of the Fort Wayne Chamber of Commerce Diversity Business of the Year (2002). Mayor's Award for Community Leadership (Fort Wayne, Indiana) 2003. Recipient of the Dr. Juan Andrade Hispanic Leaders Scholarship 1999.